Wider School Opening Information
2nd June 2020
Mrs WADDINGTON
Please find attached a letter from Mrs Waddington regarding plans for the wider school opening on the 2nd June 2020.  Once you have read the letter, please return a signed copy of the attached home school agreement on your child's first day back to Jewell.
We would like you to confirm whether you plan to take up your place or not on the 2nd June, if your child is in Jellyfish, Reception, Year 1 and Year 6 no later than Tuesday 26th May through their class emails or via Tapestry for Jellyfish and Reception
Parent letter – Reopening 2nd June
Bournemouth Foodbank
We continue to work hard to provide food to those in our community that need it most. Nevertheless, at the Bournemouth Foodbank, we want to provide help beyond just the basic need for food.
As part of our more than food philosophy, in the past, we've held budgeting and cooking courses for people struggling to do so. We want to continue to support the people of Bournemouth, especially during the current pandemic. For this reason, we're introducing our first online "Eat Well, Spend Less" course.
The course will be six weeks long and will be released as a weekly video with a variety of recipes people can follow along. It will be taught by a couple of our wonderful instructors. Participants will also receive a weekly food parcel with all the ingredients and fresh produce they will need to complete each recipe.
Additionally, we will be providing support during the length of the course on our EWSL Facebook Group. Here they will be able to contact their assigned mentor and ask questions about the recipes. As well as to engage with the community by sharing photos of their dishes and following other participants.
If you wish to take part or know someone who does, find out more about it and apply in the button bellow.
VE Day Friday 8th May 2020
VE Day on 8th May 2020 marks 75 years since the guns fell silent at the end of the Second World War in Europe.
The 75th anniversary is an opportunity to reflect on the enormous sacrifice, courage and determination of people from all walks of life who saw us through the Second World War and brought peace back to Europe . It is a celebration to mark the end of World War Two, lots of people had street parties, went to dances and had a great time!
We have been creating lots of decorations for our street party this week at school. We created our own salt dough medals, cakes and decorations for our  street party. We researched our own wartime recipes and created a huge chalk flag outside our school front entrance to mark our respect. We celebrated by learning songs, dances and eating spam sandwiches! Overall a fantastic day for us all here at Jewell!
Find out about VE Day first using this official powerpoint presentation from the British Legion.
British-Legion-VE-Day-Introduction.pptx
Or how about having a look on the VE 75 Day website that is full of facts, activities and moving videos which can be found in the video section below.
Now that you know about what VE Day is, see if you can become a History Detective: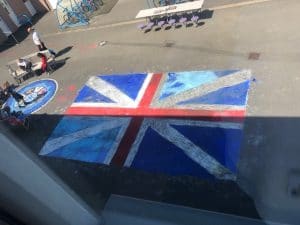 A letter from Steve kenning (managing director of aspirations academy)
Check out the following documents for Local and National help:
Mindfulness with mrs woods

Free online weekly Mindfulness and Meditation Sessions with Mrs W 
The next few weeks will be a challenge and Mrs W is offering us free online mindfulness sessions just like she used to, but obviously this time it'll be online every week.

This will be really similar to a regular mindfulness session, except of course its virtual so has some excellent added bonuses…You can take part completely anonymously or really join in, you'll be able to have your web cam on or off.
I will guide you through a short relaxed mindfulness session which you or you and your child can take part in, guaranteed to leave you calm, cool and collected.
Join Mrs W every Thursday evening at 7pm by following the link below and entering meeting ID and password:
Meeting ID: 893 602 4706
Password: 659310
If you have any questions or you would like to simply access the mindfulness handouts which Mrs W has created each week, check out Mrs W's website where you can email her as well: https://www.michelledwoods.co.uk/